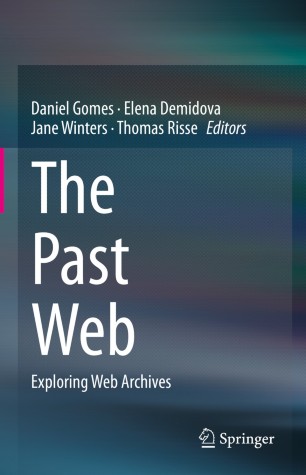 New this week, my chapter contribution to a collection of essays with the title The past Web : exploring Web archives.
Abstract
One unit of analysis within the archived Web is the 'web sphere', a body of material from different hosts that is related in some meaningful sense. This chapter outlines a method of reconstructing such a web sphere from the late 1990s, that of conservative British Christians as they interacted with each other and with others in the United States in relation to issues of morality, domestic and international politics, law and the prophetic interpretation of world events. Using an iterative method of interrogation of the graph of links for the archived UK web, it shows the potential for the reconstruction of what I describe as a 'soft' web sphere from what is in effect an archive with a finding aid with only classmarks and no descriptions.
Read the Open Access version (PDF)
Publisher's version of record (£) at https://doi.org/10.1007/978-3-030-63291-5_12
Full details: Webster P. (2021) 'Digital Archaeology in the Web of Links: Reconstructing a Late-1990s Web Sphere'. In: Gomes D., Demidova E., Winters J., Risse T. (eds) The Past Web. Springer, Cham.
There is also a Open Access preprint of the whole book.